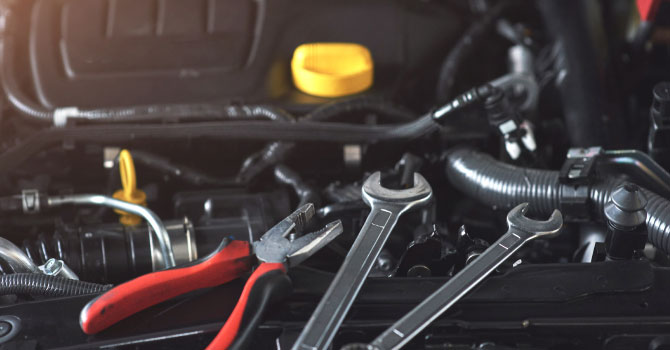 7 Tools you must have inside your car
All drivers should have basic vehicle maintenance, operation, and repair knowledge. We are not saying that every driver should have the ability to repair their engine at the side of the road if they experience a breakdown. We do, however, recommend carrying these seven items to help you out if you find yourself in a problem situation. Take a look with auXcar.
First aid kit
The most valuable addition to any vehicle is a first aid medical kit. If anyone obtains an injury while in your vehicle, having a first aid kit on hand allows you to deliver medical assistance immediately. Always be sure to keep it in an easily accessible location such as the glove box or under the seat. Doing so means you won't struggle to find it in an emergency.
Flashlight
Having a flashlight in your vehicle comes in handy in numerous ways. Whether you need to check your tires in the dark or inspect a poorly lit area under the hood, a flashlight is an invaluable tool for any driver. A cheap light or even a glow stick can also be quite handy for marking your vehicle and grabbing the attention of others on the road.
Jumper cables
Ready yourself for the possibility of a flat battery by carrying this simple, yet helpful set of cables. If you find yourself with a dead battery, having jump cables handy will allow you to get back on the road sooner enabling you to seek roadside assistance. Always handle the cables carefully and keep the red and black clamps separate while setting up.
Compact fire extinguisher
Drivers should equip their vehicles with a small fire extinguisher. It could prevent a fire from spreading, potentially turning tragic. Fire extinguishers for cars are of the same capacity as a regular extinguisher yet are smaller and more compact. Their size makes them perfect for use in vehicles.
Tire gauge
Reduce your risk of experiencing a tire blowout by regularly keeping a check on your tire pressure. Underinflated tires can leave you with a blown-out tire and potentially cause an avoidable accident. Ensuring your tires are at the correct pressure also helps you drive with maximum fuel efficiency and extends the life of your tire's tread.
Duct tape
Capable of fixing countless problems, duct tape comes in handy in more ways than you may expect. Whether it is a broken wing mirror or temporary hose repair, high-quality duct tape is a valuable and versatile addition to any vehicle tool kit. It is worth noting duct tape should only be used as a temporary fix to help you get your vehicle to the repair shop.
Screwdriver and wrench set
Carrying a set of screwdrivers and wrenches could help you fix a wealth of problems on your vehicle. Whether a battery terminal has been shaken loose or a hose clamp slips, a basic toolset could get you out of a bind. A minimal set with an adjustable wrench will do the trick most of the time.
These are only seven recommended tools that you should carry to feel more confident and prepared while on the road. Needless to say, there are much more worth considering. But this is a great way to add safety and convenience to every trip. Visit tools.auxcar.co to see all the tools we recommend for our drivers.