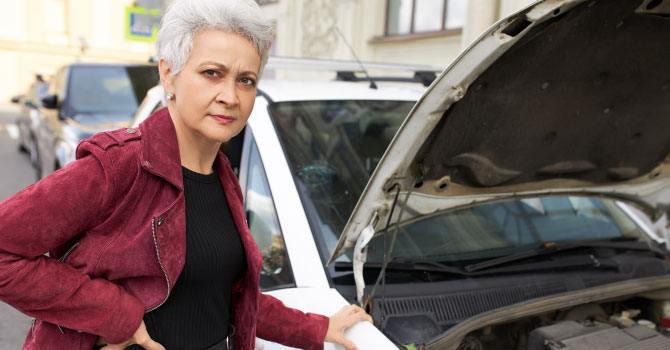 if your car breaks down here are 7 things you must know
if your car breaks down it can be a stressful situation for any driver; that is why it is crucial to stay calm and keep these essential safety tips in mind to deal with breakdowns
Move your vehicle off the road
Breaking down at the side of a busy road can put you in a dangerous position. Your first move should always be to get your vehicle to the side of the road as far away as possible from passing traffic. Be sure to put your hazard lights on to alert passers-by to your presence. Once you're parked safely, secure the emergency brake and steer your wheels away from the road. If it is unsafe to move your car off the road due to passing traffic then you should stay inside your vehicle for safety.
Call for help
Make a call to request roadside assistance. Always carry your cell phone and keep it charged up when traveling, ready for the event of a breakdown. Stay calm and report your location to proper authorities; always call 911 in case of an emergency. If your car has an emergency contact then activate it immediately.
Warn other road users
As mentioned previously, make sure your hazard lights are on from the moment you notice an issue. If you manage to pull over to a safe enough location to exit your vehicle, consider placing an emergency light fifty feet or so behind your car as an additional warning. But, be careful! Never leave your vehicle if you feel unsafe. In such cases, stay inside until someone like auXcar arrives.
Keep close to your vehicle
When broken down at the side of the road, you are best off staying inside your vehicle with your seatbelt fastened for your safety. Roadsides are especially dangerous for those on foot; roughly 4,000 pedestrian deaths are caused by traffic every year in the United States alone.
Be patient
Unless you are confident in vehicle repairs and are in a safe location then you should patiently wait. Changing a tire on the shoulder of a highway is dangerous. If you are unfamiliar with the process then you're better off and safer leaving it to a professional.
Stay alert and aware
Experiences during a breakdown will differ depending on the circumstances. Location, time, vehicle type, and breakdown issue are all factors that will dictate the severity of a breakdown situation. It is vital to always be alert of your surroundings throughout the entire situation.
Be careful accepting help
We recommend you should only accept help from a trusted provider. While there are many good Samaritans out there, it is safer and wiser to wait for professional assistance than to trust a stranger to give you a ride or work on your car.
If you carry out regular maintenance on your vehicle then keep a check on a few essential components then you should rarely end up breaking down. Take care of your car, and you will benefit from a more reliable vehicle that gets you from A to B with no issues along the way.
Don't worry, auXcar is there to help you. Download the app and just sit back!