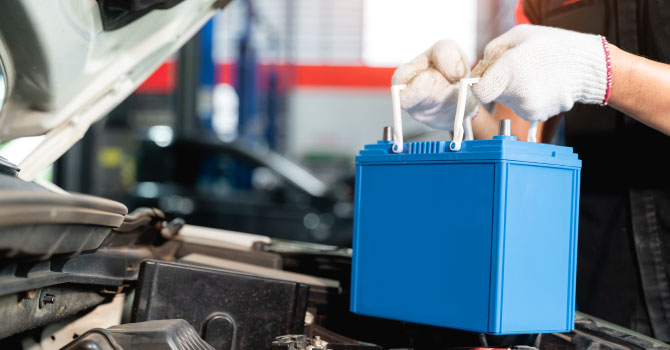 Fake car battery vs original, how can you tell the difference?
How can you tell a fake car battery from an original? The global automotive part market has changed a lot over recent years. Now influenced heavily by digitalization, the market is worldwide and increasingly based online. As a result, it's easier than ever for customers to source any part they need through countless online auto-part marketplaces.
The nature of today's modern marketplace, however, makes counterfeit auto parts more common. Unfortunately, many E-commerce platforms enable untrustworthy sellers to trade alongside legitimate merchants. This environment exposes the consumer to regular trading of fake, poor-quality products.
Counterfeit auto parts rarely meet the required quality and safety standards of official parts. This lack of quality control puts the component at a higher risk of experiencing premature failure leading to breakdown, potentially putting your safety at risk. Thankfully, auXcar has you covered!
Car batteries are a frequently counterfeited automotive part; how do you identify a fake from the real deal?
Before purchasing or installing a car battery, the first thing you should determine is if the packaging is legitimate, or not. Counterfeit auto part packaging can be impressively misleading, often disguising their inferior parts under markings similar to official brands. Be sure to look out for abnormalities, such as flimsy and fragile packaging material or brand names reminiscent of a well-known brand. If you are uncertain, ask your mechanic or auto parts professional to help look for clues. They will be more familiar with the telltale signs of inferior auto parts.
As with purchasing any product, you should expect the quality to match the price you pay. Be suspicious of drastic price differences. If you see a deal on a car battery that looks too good to be true then chances are that it's counterfeit. Counterfeit auto parts are manufactured on a strict budget, often without concern for some of the essentials required for a long-lasting quality part. While a battery may look authentic, that does not mean it will perform to the same standard as an official quality part.
When purchasing a battery, it is worth investing in top-quality trustworthy brands to ensure your vehicle operates at its optimum performance.
When purchasing a battery, it is always worth investing in top-quality trustworthy brands to ensure your vehicle operates at its optimum performance for as long as possible. A faulty battery could result in problems with other vehicular aspects as it is connected to other components. When in doubt, take it to a professional for a thorough inspection. If you are uncertain about the quality of a car battery then seek the opinion of a professional. Always stick to reputable brands to be on the safe side.
In today's global, digital auto-part marketplace, it is easier than ever for illegitimate merchants to sell counterfeit batteries. Fake batteries are becoming more easily disguised and readily available; avoid breakdown assistance and stay aware of the indicator signs.