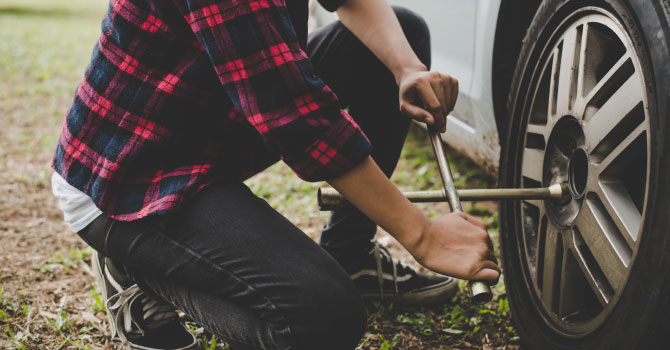 Have a flat tire? Here are 6 things to do in such situation
As you know, getting a flat tire can be a stressful experience. This is particularly true if it happens unexpectedly in the middle of traffic when the driver isn't prepared. Knowing the correct safety precautions and procedures will help you get back on the road smoothly quicker than ever. More importantly, knowing what NOT TO DO could make the difference between a minor inconvenience and a serious accident. It's true. What could be a fast thirty-minute inconvenience could spiral into a life-threatening event in a matter of seconds!
One can never 100% guarantee their safety on the side of a busy roadway. All it takes is one distracted driver to lose control and put everyone at risk. In fact, statistics from the National Highway Transportation Association show accidents as a result of tire blowouts are in the tens of thousands per year, causing hundreds of fatalities each year.
Trust your tires? Don't get too comfortable. As temperatures throughout Arizona continue, you are much more likely to experience a blowout than in cooler climates. 
Unless you are competent to safely change your own tire, your best bet is to call for a tow truck or other roadside assistance service. Thankfully, Arizona has an extensive network of roadside assistance services ready to help drivers recover from a range of difficult situations. Regardless of the approach you take, be sure to never do these things next time a tire goes flat:
Change a wheel directly on the side of the road or a hard shoulder
Always move your car to the safest location, as far away as possible from any other drivers on the roadway.
Remove a flat tire while passengers are still in the car or truck
Once you're far away from traffic, you must allow passengers to exit the vehicle and stand clear of the workspace and traffic.
Replace an automobile's tire on an uneven, soft, or loose surface
You'll need a stable surface for your jacking device to function properly; soft or uneven ground is too precarious to hold any real weight.
Lay underneath a vehicle that is only supported by a single jack
Never place yourself underneath a jacked-up car; equipment may malfunction and put you in quite a dangerous situation!
Ignore the incident and continue driving on a low or flat tire
Slowly reduce your speed and pull over to the safest possible spot; driving on will only cause further damage and put others at risk!
Panic or lose your cool in the face of an emergency
Without a doubt, flats can be a stressful situation. Remember to take a deep breath and seek assistance from a qualified team if needed.
Ready to hit the road? Familiarity with your vehicle will give you more confidence when it comes to mechanical issues. Always know where your spare tire and jack are located so you'll be ready for any situation. Doubt your skills? Thanks to auXcar, you always have access to a dependable and qualified team around the clock. A touch on one app connects drivers to a network of specialists ready to address any issue. Available anytime, anywhere, auXcar has you covered!