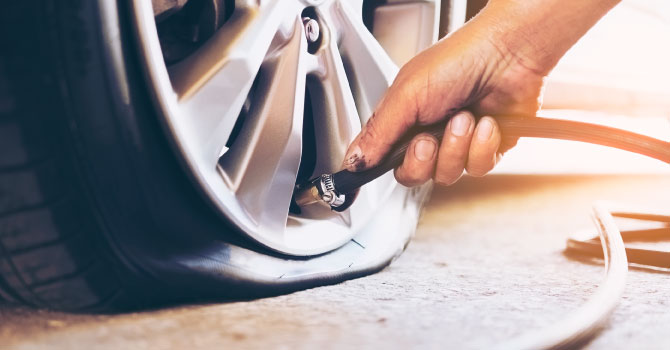 Bad Tires? What to look for when checking tire safety
Tires are the only part of your car that physically comes into contact with the road; know how to recognize when they need to be replaced.
As a responsible driver you should know bad tires aren't something to play with it is your duty to ensure your tires are always in a roadworthy condition. Car owners should be competent when it comes to checking if their tires have sufficient tread, are properly inflated, and are generally in good condition. You should always feel confident when you set off on any drive. Let's review a few essential safety precautions that you should be familiar with.
What to look for when checking tire safety
Tread depth
If you cover large distances regularly then your tires will face increased strain causing premature aging. Your tread will wear out faster requiring replacement tires sooner than a vehicle that is used less frequently. Bald tires are dangerous for two reasons – a) you are more likely to suffer a puncture as the tire is thinner, and b) tires are unable to hold traction on wet roadways without sufficient tread. A fast, easy way to check the state of your tread is to place a quarter headfirst between your tire's tread at multiple points. If the top George Washington's head is visible then your tires need replacing.
Tire pressure
Always ensure tires are sufficiently inflated by checking pressure with a gauge at regular intervals as well as before long journeys. Checking your pressure is easy. Remove the dust cap and gently press the gauge head onto the valve stem. Firmly apply the gauge until the hissing sound of the air escaping ceases. Once applied, remove the gauge and read the pressure value. Check the value for your vehicle's recommended tire pressure and compare it to your current value. It is important to note, always check your tires during dramatic Arizona temperature swings and never bleed air when it is warm.
General condition
A visual inspection of your tires will allow you to identify any damage which may require attention or even full tire replacement. Inspect the sidewalls and tread for any signs of punctures, cuts, cracks, bulges, or scrapes. Color is a great indicator when it comes to tire condition. Dulled or grayed coloring could indicate the beginning of a larger issue. If you notice any damage or discoloration then you must act before hitting the road. Contact a professional and get them to assess the damage as a small problem could quickly escalate to cause further damage to your vehicle.
Age
Tires age regardless of the distance you travel. Most tires last only six to seven years; if it has been more than seven years since your tires were manufactured then an upgrade is highly recommended. You can check the age of your tires by observing the DOT stamp located on the sidewall. The four digits at the end of the DOT are the date code. The week is represented with the first two digits and the year in the last two. For example, a code reading 1219 means your tire was manufactured on the 12th week in 2019.
Tire maintenance is an essential aspect of maintaining your vehicle; these simple checks will keep you safer on the roads regardless of where you're going. You are, however, bound to need roadside assistance or breakdown assistance every once in a while. Thankfully, a touch on the auXcar app gives you instant access to a wide selection of specialists within your area. Battery jumpstarts, engine code checks, spare tire changes, towing trucks, emergency fuel, and more are available with a simple click.