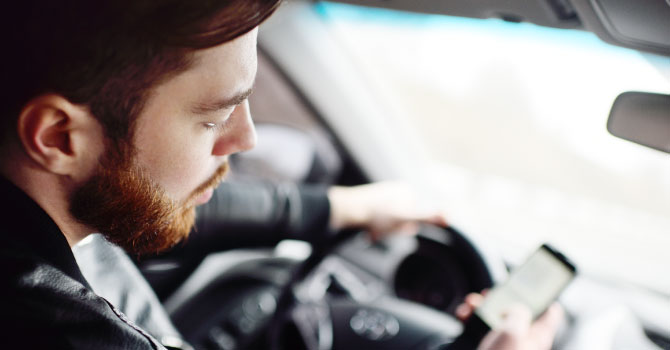 The new texting and driving laws in Arizona 2021
Across the United States, approximately nine people per day die and over 1,000 are injured due to distracted driving. In Arizona alone, nearly one in four crashes is due to a distracted driver. In response to the death of an officer killed by a texting driver, the new Arizona Texting and Driving law was put into place earlier this year to tackle the growing trend.
If you are a driver in Arizona then you should already be aware that it is now illegal to use a cell phone (texting and driving) or other stand-alone electronic device while driving, unless it is a hands-free system. The new law prohibits the use of devices while driving throughout the state, superseding all existing local and city laws. Not sure what that means? Simply holding or supporting your device with your body while driving is illegal. According to the law, even a phone perched on your shoulder to make a quick call is illegal.
Here are two things you must familiarize yourself with as an Arizona driver:
Specifics of the law
Our tech-dominated lifestyles have us regularly reaching for our devices throughout the day to check in on social media feeds, search YouTube, or record a video. The new Arizona law applies to all electronic devices including cell phones and tablets to music and gaming devices. Drivers are only allowed to answer or end calls on a hands-free unit or select a route on a GPS while driving. To use your phone for anything else, you'll need to be completely stopped at a red light or, better yet, parked safely.
Emergencies are the only exception to the law, It is important to note that the law does not apply to radios, citizen band radios or hybrids, commercial two-way radios, subscription-based emergency communication devices, prescribed medical devices, amateur or ham radio devices, in-vehicle security devices, and navigational or remote diagnostics systems.
Possible repercussions
Diverting your attention from the road to a phone puts your life and other's lives at risk. Violators of this Class 1 Misdemeanor should expect fines that range from $75 up to $149 for their first offense. Any further convictions will land drivers a fine between $150 and $250. If a driver causes injury or death to someone while violating the law then the individual should expect to lose their license for up to a year alongside a six-month jail sentence and payment of $100,000 in restitution.
Simply put, no phone call or text message is more important than arriving at your destination safely. To avoid run-ins with the law, you'll need to get yourself a handsfree earpiece or headphone device to stay connected. Keep your eyes on the road, and off of your phone. Want to protect yourself wherever you go? AuXcar connects a network of specialists ready to address any issue. A touch on your device finds the fastest roadside assistance available… anywhere, any time.